The Extension Institute of Community Development provides educational programming to assist leaders, communities, and organizations realize their fullest potential. We work with communities to build the vitality that enhances their quality of life and enriches the lives of their residents. We educate in leadership development, organizational development, food systems, community economic development, local government education and much more. In short, the Community Development Institute plants and cultivates the seeds for thriving communities and organizations.
Did You Know
Many people already know of our popular programs, but did you know that we also:
Upcoming Events
Community Development Publications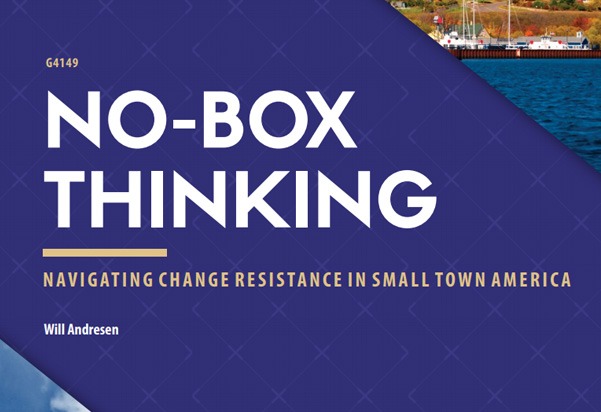 The Learning Store produces and distributes educational materials based on university research, extending knowledge to the statewide community.
Featured Publication
No-Box Thinking offers a framework for understanding the automatic and powerful resistance to change those engaged in community development often face. This book details how to convert the powerful sources of community change resistance—identity, emotion, and social connections—into powerful forces for transformational change (105 pages; 2018).
View Related Topics on the Learning Store
Find Your Local Office
Extension experts live and work in the communities they serve. Our team offers insight and solutions based on a deep understanding of local needs and priorities.
A Part of the Agriculture, Natural Resources & Community Development Program Area
Extension's Department of Agriculture, Natural Resources & Community Development creates a bridge between Wisconsin's ag and the environmental resources with the people that use them. We help producers, farmers, and businesses build stronger and more diverse farm and food systems. With communities and regions, we work hand-in-hand to support land and water resource needs.
Director – Community Development Institute
Benoy Jacob
432 N Lake St Rm 627
Madison, WI 53706-1415